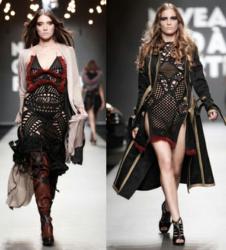 (PRWEB) May 28, 2012
Provocative, Bold & Whimsical that is Eastern European Fashion by renowned designers from Croatia & Russia. Imported Luxury Clothing, Dresses and Accessories for Women along with Trend-setting Men's Designer Fashion. Slated to be the fortress of fashion where women can select high end "one of a kind" dresses. No longer just for Muscovites & Croatian Celebrities now Russian and Croatian Designers are available in the U.S. on MAX-A-PORTER.COM
Whether going to the Oscars or the Met Ball you will truly want an ensemble from one of these designers. Stylists are taking note of these truly unique designers to dress their celebrity clients and socialites.
Up & Coming Designers in Eastern Europe:
Go BOLD or go BOLD from Juraj Zigman (ZIGMAN) Croatian Designer from Rijeka! Like The Most Interesting Man in the World ZIGMAN is the most interesting FASHION DESIGNER in the world! Juraj's Evening and Cocktail Dress Collections are unmistakable. They seduce you like a Rock concert to a Luxe photo shoot.
Croatian Designer Matija Vuica creates Glamorous Evening Dresses and presents them every season at Cro A Porter Fashion Show in Zagreb. Every Croatian Celebrity wears Matija to any social event where fashion and champagne mingle.
Russian Designer Ella of Eleonor Fashion House presents her collection at Mercedes Benz Fashion Week, Russia every season. Inspired by the designs of Cristobal Balenciaga & Christian Dior from the 50's her collections are sophisticated and romantic.
Luxury Designer Accessories by KITSCH ACCESSORIES from Split, Croatia. Each piece is handmade by the designer, Sonja, with Italian materials. Kitsch Accessories are featured every season in Cro A Porter fashion show along with Croatian Designer Matija Vuica's collections. For a luxurious look compliment a Matija Vuica evening dress with a designer bracelet or necklace from Kitsch.
Old Gold Shimmer fabric, Italian silken nets and provocative fuchsia feathers provide the lust for Eastern European Fashion. Dramatic designers raised in castles and trained in Milan create noteworthy celeb style clothing.
My associates and I are traveling to fashion shows in Eastern Europe such as Cro A Porter and Mercedes Benz Fashion Week Russia exposing designers from Moscow to Zagreb. Our philosophy is to showcase exquisite original pieces from the Runway for elegant discerning women.
We live by the motto A life less Ordinary! So don't be Ordinary and trust myself and my team to deliver the Star Power in Fashion.
Check out our Facebook and Twitter pages to for the latest on MAX-A-PORTER. Read our Blog for the latest on our coveted designers.
http://www.max-a-porter.com