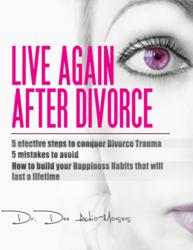 Atlanta, GA (PRWEB) May 30, 2012
The Better Than Ever After Divorce Online Community was initiated by Dr. Dee Adio-Moses, an ordained Minister with a PhD in Philosophy specializing in holistic life and spiritual counseling. Recognized as a visionary, life strategist and educator, she is also the author of several books including, "Live Again After Divorce" which she is giving away free to everyone who joins the community.
This ebook is dedicated to those women who have gone through or are still going through the pain and trauma of divorce, says Adio-Moses, who is lovingly referred to as Dr. Dee. I feel your pain because I have been there and survived. There are twenty-four other experts spanning four continents who are here to help you as well. I honor your resilience and determination to achieve a life that is better than ever.
There has never been a roster of experts of this caliber at one divorce recovery community. They come from all over the world but they all have one thing in common the desire to help you heal, adds Dr. Dee. Each one knows how you feel because they have experienced some aspects of your journey themselves. They have been in your shoes and know the pain. They really understand and are passionate about helping you reach that place of total freedom. Join us and take advantage of this once in a lifetime, not-to be missed experience.
Dr. Dee has packaged the teachings being offered. Women are invited to purchase one or more of these packages featuring the content most relevant to them. Subjects include: Letting Go & Moving On, Begin Again After Divorce, Parenting Through & After Your Divorce, Connecting With Your Divine Essence, Making Dating & New Relationships Work as well as the complete package of all the Better Than Ever After Divorce experts.
These experts share sound advice on how to empower yourself to better cope with the many stresses of divorce. They also provide hope along with tips, strategies and insights on how to create a happier, more fulfilling life.
Included among the twenty-four experts is Janet Bray Attwood, #1 New York Times bestselling author and co-founder of the Passion Test. She is a celebrated transformational leader who has shared the stage with His Holiness the Dalai Lama, Sir Richard Branson, Nobel Prize winner F.W. de Klerk, Stephen Covey, Dr. Barbara De Angelis and many others. Janet received the highest award for service from the President of the United States for her work with the homeless and kids in lockdown detention centers.
Also included is Wendi Friesen, a worldwide leader in creating rapid change for lifes difficult problems. Since 1994 Wendi.com has influenced the lives of millions worldwide and brought insight, wisdom and spiritual growth to people in need.
From South Africa, the Fantastically Fabulous and Magical Fairy Godmother (a.k.a Donna McCallum). has helped hundreds of thousands of individuals worldwide to realize their dreams and goals and has helped small and big companies like Nedbank, Mica Hardware, Estee Lauder, Sun International etc. align their teams and start getting the results they want.
Sharon Wilson, Founder of Coaching From Spirit Institute at coachingfromspirit.com, is a Master Coach, Certified Spiritual Counselor and author. She guides struggling business owners to success as Spiritualpreneurs including those going through divorce through the principle that successful entrepreneurs rely on one business coach themselves.
Gay Cartier is Australias foremost Recovery Coach, Spiritual Coach, Communications and Transformation Specialists and Stress Management Expert. Known by many as the transformer, she has assisted her clients to make that 180