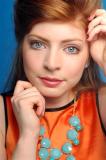 London, UK (PRWEB UK) 22 June 2012
With role models such as Twiggy, Coco Chanel, Marilyn Munro and Cheryl Cole, La Mode's latest teenage modelling star certainly has taste which spans the generations.
Titian haired, blue eyed and 18 years old, http:// http://www.lamodelondon.com launch a tiny model into the limelight with their latest modelling portfolio and accompanying website.
'Jenny is currently studying fashion and textiles at college and is always inspired to think creatively about her look, fashion and the way it conveys an image to others,' explains Helen Smith, director for La Mode London. ' She has previous experience in the world of modelling and has modelled for fellow students in a college based assignment. She is very keen to be a part of the fashion world really enjoys her modelling and it shows. The photographs she had taken on her shoot day are outstanding and she has a definite unique look and style.'
Each model who arrives for their dedicated photo shoot day gets to experience the life of a model in the very busy commercial photography company's studio with models coming and going all day long. They each receive their dedicated online modelling portfolio and website revealing different poses and outfits which they wore on the day. When asked why she wanted to be a model, Jenny said,
I would like to be an inspiration for other petite red haired girls who want to look fabulous, feminine, sexy, and have fun!' She went onto say how much she enjoyed dressing up in creating a really visual experience with her clothes and make up and also her stunningly glorious red hair. She particularly enjoys going back in time and promoting a particular era or a statement look such as her favourite decade, the swinging 60s. ' Everyday I wear individual fashion statement clothes, my style can be classed as 'indie' or vintage clothes to express myself and my interest in fashion.'
La Mode certainly feel that Jenny has got the right attitude and vital statistics to make a successful career in petite modelling. They would encourage her to continue with her studies is balancing modelling and schoolwork is certainly very achievable as long as the model can cope with doing both.
Jenny is interested in a variety of different kinds of modelling and much more information can be found on the information page on her website. In her spare time Jenny is a keen musician and plays piano, guitar and violin. She enjoys swimming and working out at the gym to relax and to stay in shape, and she is a loves to cook. Jenny also has a fashion blog that she updates regularly. Her inspirations are Coco Chanel, Marilyn Munro and Cheryl Cole, saying the latter is about the same size as herself and has made the most of herself in a modern ever changing world.
'I love her style and people have said I look like her some times. I love Coco Chanel because of the way she brought an independence to fashion and think she is very elegant and beautiful. Twiggy had the youthfulness and natural look which thousands have aspired to since. Marilyn Monroe looked so beautiful, sexy and is timeless in her look '
To view Jenny's brand new portfolio visit http://www.lamodelondon.com