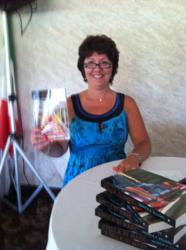 Detroit, Michigan (PRWEB) December 13, 2011
Crime thriller author, Patricia Bellomo, consistently turns out awesome anecdotes written in Louie Morellis voice. Recent titles include The Green Owl, Golfcart Gestapo Strikes Again, Stone Crabs and Suicide, Bal Harbour Baby, and Tree Time in Delray.
Keeping in mind that Louie Morelli is a fictitious person, existing on the pages of Patricia Bellomos novels and blog, taking a few minutes to read one or two of the postings is a great way to get acquainted with the writers work and character.
Writing crime thrillers with a mob-related twist, Patricia Bellomos books include Stella di Mare and the recently released Louie Morellis Daughter. Differentiating from the chick-lit on steroids currently being touted as thrillers, Ms. Bellomos books have the glitz and style of an HBO series. Theyre true to form, with seriously flawed characters and blurred lines between good and evil. No black or white, good-guy, bad-guy themes. Certainly no heroic copsin Patricia Bellomos novels the Feds tend to be villains.
In Stone Crabs and Suicide, the intrigue is palpable in two short paragraphs. Meeting his mysterious pal, Nathan Roth, at the venerable Joes Stone Crab in South Beach, Louie learns that Nathan has just returned from New York where a French diplomat has hung himself. Knowing that staged suicide is one of Nathans specialties, Louie discerns his involvement. But its not and never will be discussed.
Some of the anecdotes deal with Louies beautiful princess of a daughter, Stella, who gets kidnapped in Louie Morellis Daughter. The star of Bal Harbour Babyits all about a little shopping therapy at Miamis fashionable designer mallall paid for with daddys plastic. Of course, Louie does prefer to pay with cash.
Another recent title, Showdown at Greek Isles, has Louies girlfriend making demands in a Fort Lauderdale restaurant. But Louie already has a lovely wife, Angie, and the press for commitment is the ladys undoing. As Louie says, "What's the point of having a girlfriend if she acts like a wife?" In Breakfast at the Breakers, Louie meets a strange New Jersey gent at the famous landmark in Palm Beach.
Patricia Bellomos books can be purchased through her website, as well as on Amazon.com and all major booksellers. Kindle and ebook versions are also available. From now through the end of the year, signed copies of Louie Morellis Daughter can be purchased directly from the author and shipped free of charge anywhere within the continental United States.
###