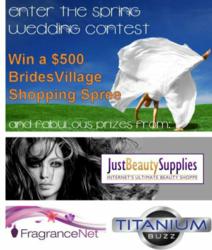 Edinboro, PA (PRWEB) April 11, 2012
BridesVillage.com, a wedding accessories e-commerce retailer, announced the start of its annual spring wedding contest today, which is now open to the public and visitors to the BridesVillage website. The sweepstakes is being cosponsored by three leading merchants in addition to BridesVillage and runs from today until May 8th, 2012. The 12 available prizes include a $ 500 BridesVillage shopping spree and will total over $ 1200 in value.
"This is the second time we've done a spring wedding giveaway, and our spring contests are always the biggest," said Cathy Ward, owner of BridesVillage. "We wanted the theme this year to be 'keeping weddings affordable,' and we've got some great sponsors and prizes to go along with that."
In addition to the $ 500 shopping spree, BridesVillage will also be giving away a $ 250 Marriott TravelCard as well as $ 25 gift certificates to BridesVillage.com and a Bed Bath & Beyond gift card. Sponsored prize packages will include a $ 100 Aveeno Hair Treatment and Essie Nail Polish gift set from JustBeautySupplies.com, a $ 50 gift certificate from FragranceNet.com, and Varia Ecoresin Bracelets from Titanium-Buzz.com.
Grand Prizes like the shopping spree and JustBeautySupplies gift set will be drawn on May 9th, 2012 after the close of the contest. Weekly prizes, such as the $ 25 gift certificates and the Bed Bath & Beyond gift card, will be given away each Tuesday during the contest.
"This is our biggest contest yet, but with the scale of our giveaways your chances of winning are much, much higher than many other contests out there," Ward said. "Anyone can enter once per day and it takes almost no time to submit an entry. If you follow the contest every day and get your friends involved you can really boost your likelihood of winning."
Anyone interested in entering the wedding sweepstakes can do so simply by filling in a form on BridesVillage.com with their name, email address, and phone number. Particpants can enter once per day, every day, until the entry period ends at 11:59 PM EST on May 8th.
Contest winners will be posted on the BridesVillage wedding giveaways webpage as well as on Facebook, Twitter, and Google+.
"Times are still tough for a lot of people," Ward added. "We and our sponsors wanted to do something for our customers to make things a little easier and more fun. We're not big corporations, we're people from the same walks of life as our customers, and this contest is a way for us to thank the people who keep our businesses going."
About BridesVillage.com:

Founded in 2000 by Cathy Ward, BridesVillage is an online specialist in wedding supplies with nearly 20 years of experience in helping brides prepare for their weddings. BridesVillage features both popular and hard-to-find wedding accessories as well as personalized bridal party gifts and wedding favors. BridesVillage has recently added over 500 new items for the 2012 wedding season.