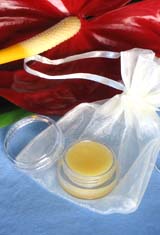 Honolulu, HI (PRWEB) April 30, 2012
Alii Flowers announces a new combination package of it's best selling solid perfumes. The perfumes are hand made on the Big Island of Hawaii. Fragrances include plumeria, mango, gardenia and pikake-grapefruit flower.
Solid perfume, also know as perfume glace contains no alcohol like most commercial perfumes. The base is an emollient of beeswax, vitamin E and oil from kukui nuts and almonds. The fragrances are selected from flowers and plants found in the Hawaiian Islands. Each is packaged in a small, round container with a screw on lid. The container is packed in a sheer organza fabric bag tied with a ribbon and contains a quarter ounce of the perfume.
The cream is non-greasy and softening to the skin. Solid perfume will not break or spill like liquid perfumes nor will it evaporate so quickly. The perfume is applied with the fingertip so only a small amount is used with each application. One jar can supply over one hundred applications.
Plumeria, also called frangipani is one of the most popular of Hawaiian flowers. It is often used in lei making because of it's unique fragrance. Pikake is a Hawaiian jasmine flower prized for it's scent. Pikake fragrance is added to that of pink grapefruit blossoms to create a unique, natural aroma. Gardenia has a similar fragrance to pikake but stronger. To create the mango fragrance oils from tropical fruits are combined including a hint of coconut.
Each jar retails for $ 13.50 plus shipping but this special offer includes one jar of each plus free shipping by two-day FedEx for $ 39.90, a savings of $ 29.05. This pricing is available now and in time for the upcoming Mother's Day celebration.
About Alii Flowers
Alii Hawaiian Tropical Flowers has provided wedding flowers, leis, flower assortments and Hawaiian made gifts since 2005.
Find More Beeswax Press Releases