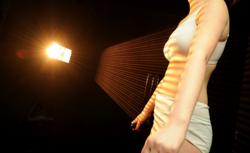 Manchester, UK (PRWEB UK) 27 May 2011
The innovative technology, similar to the new scanners used in some airports, uses light beams to measure every millimetre of the human body, and create a 3D image of every curve which is printed out for the shopper to keep.
Armed with this knowledge, shoppers will then be advised on what clothes suit them best, and how to dress to suit their shape.
Distorted
Shoppers can often have a very distorted body image, explains Caroline Aikman, organiser of the Summer Rescue event which features the new scanners. People tend not to look in surround mirrors, or have photos taken of all angles. When our shoppers see their scan, for many it will be the first time theyve ever seen what they look like from all the way around.
This arms shoppers with so much vital information, they can make much better choices in terms of summer swimwear, dress length, and trousers.
Wed invite everyone who wants a scientific reading of their personal body shape to visit our website and book some scanner time during Summer Rescue it could be the biggest fashion favour you do yourself all year!
Modesty
People being scanned will be asked to wear white underwear to their scan appointment (bookable online) to protect their modesty.
The Trafford Centre hosts the week-long Summer Rescue from 13th June – aimed at solving the most pressing beauty and fashion problems of the season.
Images: Attached is an image of The Trafford Centre Bodyscanner in action.
Notes to Editors:


During Summer Rescue shoppers can expect to see a packed showcase of the latest trends in cosmetics and skincare, tanning, sunglasses, bikinis, footwear and much, much more.
International make-up artists will be making appearances during the event to reveal the insider tips on looking and feeling fabulous in the sun.
Trafford Centre shoppers can bag themselves a place at our must-see VIP evening (16th June), where theyll be served by our hunks in trunks to the sound of live Calypso before enjoying beach parties at Selfridges, John Lewis and Boots.
Or they can enter our new state-of-the-art body scanner, which will reveal to them exactly what body shape they are – and how best to dress for sartorial success.
WHAT: A seven-day extravaganza of expert masterclasses, makeovers and advice aimed at answering all your style and beauty questions in time for Summer 2011. See the malls transformed as beach huts spring up around the Centre, watch out for our hunks in trunks!
Our Beauty Rescue will allow shoppers to sample such big names as Clarins, Bobbi Brown, Laura Mercier, Armani, Jo Malone, Estee Lauder, Kiehls, and many more up close and with the experts.
Or dip into our Fashion Rescue, with stores including Selfridges, Karen Millen, Reiss, GAP and Mango as we reveal the hottest summer-wear on the planet.
And you can feed the inside as well as the outside, with a host of great offers at our restaurants and cafes throughout the event, including Pesto, Tampopo, Giraffe and Zizzi.
Where: Across The Trafford Centre, with Summer Rescue events taking place at Selfridges, John Lewis, Boots, Bank, Republic and a host of other retailers, as well as in specially designed beach huts dotted around the Malls.
When: Monday 13 Sunday 19 June 2011, 2pm until 10pm weekdays and all weekend. A special VIP-only event on Thursday 16 June is strictly by ticket only.
How: Catch up with all events and book yourself a place at: http://www.traffordcentre.co.uk/summerrescue
###